I use a Google calendar for all kinds of things, most of them very normal. I use it for my scheduled appointments and events, and I use it as a task list. I hear you're not supposed to do that, and I understand why because I've read the trusty Getting Things Done book.
I found a lot in that book that helped me set up some systems that I continue to use nearly ten years later. But I still choose to use my calendar for tasks. My brain doesn't do well with stuff that is out of my sight. I'm very much an out of sight, out of mind kind of person. And when I'm not, it's because I haven't been able to stop thinking about whatever thing it is I'm afraid is out of sight and will be out of mind shortly. :)
Most tasks are just set up as "All Day" events and when I finish them, I add a "+" at the beginning of the event name. It's easy and it lets me search backward when I need to.
Such as: when was the last time I reconciled my accounts in GnuCash? Ah…that's right, August 20th and it wasn't part of my normal routine, because I didn't "+" the event, I added a new event straight into the calendar. :)
But then there are the weird things, like my weight.
I set up my weight as an event and throw it in there every so often just so I can look back and see where things stand. Search makes it easy since the keyword is "pounds."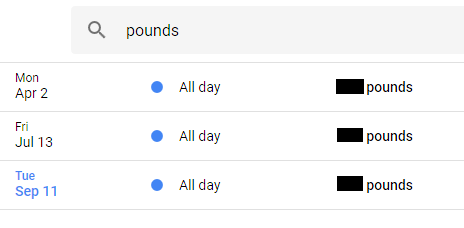 Personally, I appreciate the broad overview this gives me. It's easier to see significant changes when you get rid of extraneous data like what you'd see in a daily log.
I also keep affirmations of one kind or another in my calendar. I have some of them set up as recurring All Day events, so just about the time I'm likely to forget them, they pop up again.
I add All Day events for anything I want to remember, really, from "stray kitten arrived" to "woke up with vertigo" (which happened last week).
I recently created a calendar called "Writing" (separate from my publishing calendar) and I think I'm about to start using it in the same way for memorable stuff related to my books. Stuff like "came up with twist for SB" (SB = Some Book). :)
The one thing I don't do is use my calendar to track my daily word count. Too much data. If I search for "words" I would be sure to get pages and pages of useless info, because I already keep up with my daily word count in a spreadsheet.
But now that I'm thinking about it, I am definitely going to add a yearly word count to my calendar. I do have a yearly word count summary in my spreadsheet, but the numbers are spread out and not so easy to see side-by-side. I don't want to make any changes to my spreadsheet, so this will give me a different option for viewing my year-end word counts.