I wish it weren't so, but I have fallen terribly far behind on my NANO goals. All it took was a week and a half of less than good writing days and suddenly I need 29,620 words to finish and I need them in eight days (seven if you don't count today, and I can't really, because today I am finally working on proofreading the book I finished last week and don't expect to have time to write anything, much less the 3,703 words I should be aiming for today on the NANO book).
Days 20–22: I wrote -12 words for the NANO book (yep, I deleted more than I wrote, and I didn't do much of that to be honest).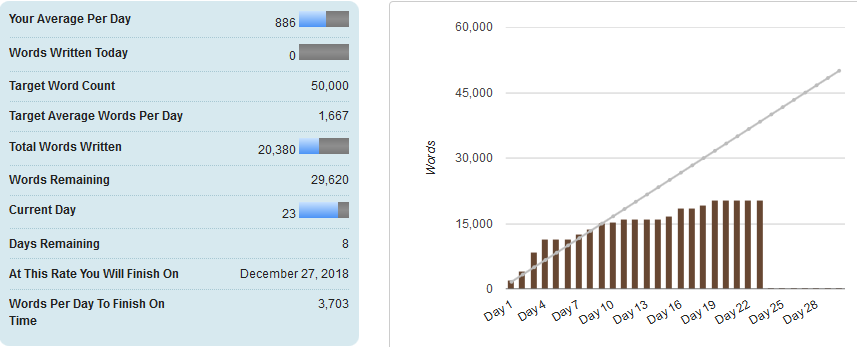 This was the week I followed up with my GP doctor and there has been the Thanksgiving holiday, but mostly, my downfall began on the 10th when I started to refocus on finishing the book I set aside to start November strong. Until then, I was still doing okay and staying on top of my word counts.
Day 23: I wrote 0 words for the NANO book (50 words total for all my fiction).
I'll have to update this one at the end of the day but as of now, I'm pretty sure the NANO count is going to be 0, and the all fiction count is going to be some small number that results from copy edits to my finished book. I'm proofreading today and it's taking such a long time that it is very unlikely I'll get anything more than that done. (If even all of that!)
As of right now, I am not on track for a NANO win. But there is such a thing as a miracle, so I'm not calling it a loss until next week.