I can't remember what number I'm at in my reading challenge and don't want to look it up at the moment, so I'm abandoning the numbering in my post title. The reading log will keep me updated. :) I'll add this book to that page momentarily and then I'll know. Also, it'll make writing future posts easier because I won't have to check first. That'll be a help because I plan to read a lot of books in the coming months!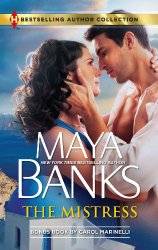 I just finished a Maya Banks book called The Mistress
.
It's a reprint of an older book from Harlequin, but man, I forget sometimes how much I loved these little Harlequin/Silhouette books. ;) All that melodrama! I love it. I mean, real life it ain't, but these are fun stories and they're quick reads. So enjoyable.
That said, I don't have warm, fuzzy feelings for Harlequin the way I used to when I was younger and gobbled up their books. Their publishing practices and contracts aren't good for most authors' careers.
That makes me sad, but I avoid buying Harlequin books these days. This was a library loan through R.E.A.D.S.
I need to quit surfing the R.E.A.D.S. website when I'm avoiding writing. I keep borrowing books when I already have too many books to read!