And it's been four days since I finished reading the last book, but … I read another book this week! MacRieve
by Kresley Cole.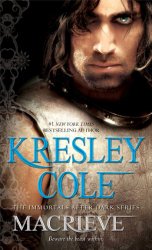 It's book 13 in a long-running series called Immortals After Dark. I think I've missed a couple of books. I know I have 2 paperbacks I haven't read that come before this one, but I think there are more. Ah well. It didn't interfere with my enjoyment of this one, and I'll get to them sometime, I'm sure.
I dumped the mini habit of reading 2 pages a day. Strangely enough, though, I have still read at least 2 pages of fiction a day since! I probably won't tomorrow though, since I just finished this next book and I don't really want to start another one yet. We'll see. Maybe Friday. :)
NOTE: I decided to make an effort to read more books this year. And since I have so many unread books, I set a goal to read at least 60 of the books in my backlog by the end of the year. Here's the log if you want to see how I'm doing.